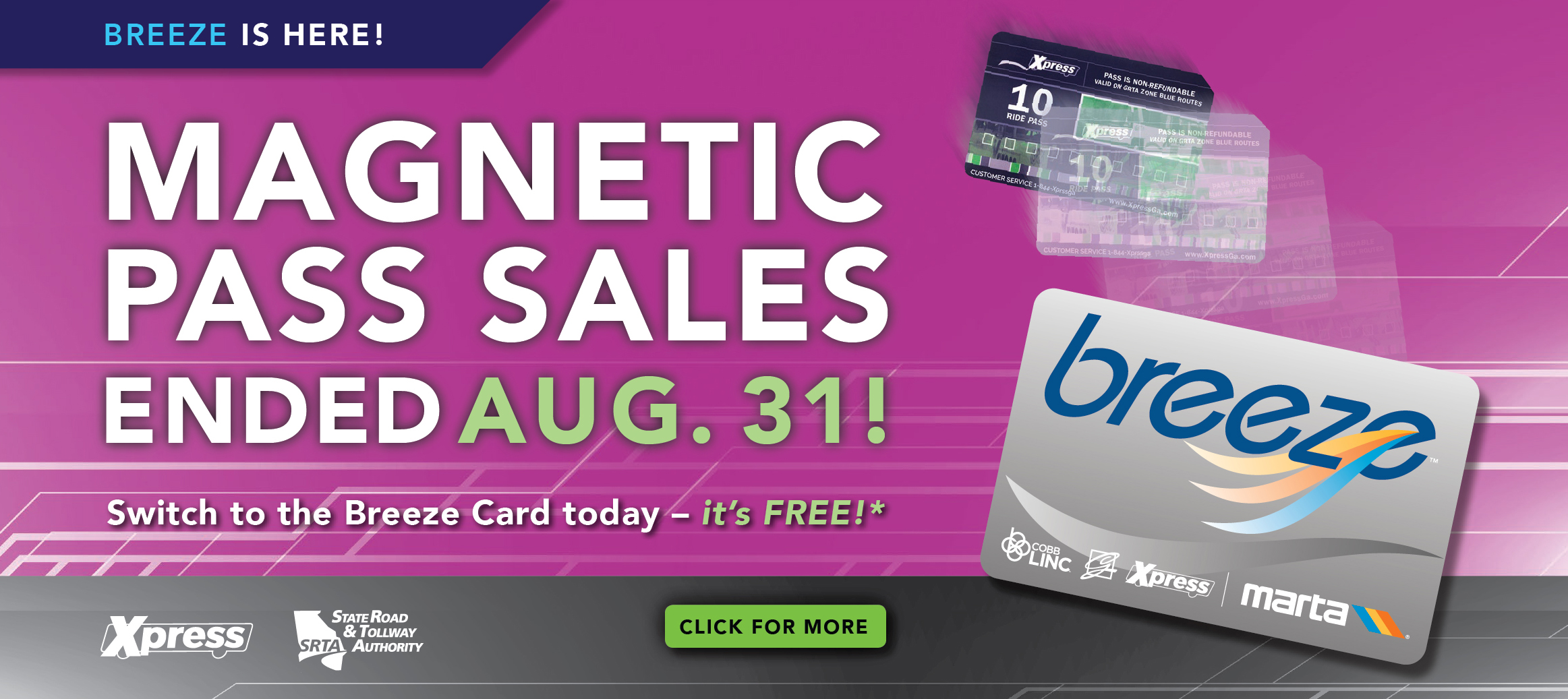 YOUR XPRESS PASS WILL NOW BE ON A BREEZE CARD – FREE* FOR A LIMITED TIME THROUGH OCTOBER 31!

With Breeze, enjoy balance protection, online card management and free transfers to MARTA.

Your pass will be loaded on a new Breeze Card and sent to you in the mail.

Your Breeze Card is reusable. After you receive your new Breeze Card, you can reload it with Xpress passes at www.breezecard.com.

*The Breeze Card is free (a $2 value) with the purchase of an Xpress pass through Oct. 31. Limit one free Breeze Card per transaction.
---
Xpress is "commuting made easy," and we offer several multi-use discount fare passes to fit your needs whether
they are 10 single rides to use any time, or a 31-Day pass that works like a monthly pass.

Please be aware that Cobb Linc operates Xpress routes 476 and 480. Customers will need a CobbLinc pass to ride those routes. Passes are not refundable.

If you ride route 476 or 480, a SRTA Xpress pass is not valid. You will need a CobbLinc pass. For CobbLinc fare information, call CobbLinc Customer Service at 770-427-4444 or visit CobbLinc online

Purchase Green Zone Passes for Xpress routes 401, 419, 423, 426, 428, 431, 432, 440,441, 442, 453, 463, 483 and 490.

Purchase Blue Zone Passes for Xpress routes 400, 408, 420, 411, 412, 413, 414, 416, 417, 419, 423, 426, 430, 440, 453, 482, 483 and 490.